Marc Guerrero
Associate Chair Ed Studies, Department of Educational Studies
Higher Education and Student Affairs
Thank you for sharing your time and thoughts with us as we commemorate Filipino American History Month. What are some meaningful ways that schools and universities can commemorate and celebrate Filipino American history, during the month of October and beyond?
Naming the month is a very important first step to recognition. And naming it specifically as Filipino American History Month (not heritage) honors the intentions behind the founding of the month by the Filipino American National Historical Society (FANHS) in 1992, through the leadership of the late Dr. Fred Cordova and FANHS Founder Dr. Dorothy Laigo Cordova. Since then, awareness of FAHM has grown, including proclamations by U.S. Presidents. FANHS offers a wealth of historical information and ideas that can be utilized in lesson plans, educational activities, and events by schools and universities. A couple examples include: "Teach about the histories of Filipino American college student organizations" (for example, the Pilipino Student Association at Ohio State) and "Learn about the pensionados, or government-sponsored students who attended U.S. universities in the early 1900s" (including at least 6 who matriculated at Ohio State between 1904 and 1908!). Of course, these educational ideas can and should be happening beyond October too. Moreover, institutions can continue to acknowledge and specify Filipina/x/o American students, faculty, and staff, especially given the unique history of colonization between the US and the Philippines when compared to other Asian American groups. Additionally, it's important to remember that we are creating history every single day. FANHS has always prioritized the documenting and sharing of our stories because we all are contributing to history. Have students tell their family stories and highlight how these stories are something to be proud of as they are valued by your school, institution, or organization.
The theme for this year's month long celebration is "50 years since the first Filipino Young People's Far West Convention." What was the significance of this gathering, and what is the ongoing role of young people in amplifying Filipino history and culture and advocating for Filipino American communities?
We all have so much to learn about history – whether our own or others. I was not aware of the Far West Conventions until the theme was announced, so I really appreciate FANHS highlighting different historical moments outside of what might be considered "canon" or more well-known historical information (e.g., First recorded landing of Filipinos in California in October of 1587; Filipino heroes of the farm workers movement). As FANHS notes, "the First Young Filipino People's Far West Convention [was] a meeting that took place at Seattle University in 1971 and brought over 300 young Filipino American participants from the West Coast of the US. The convention is hailed as the beginning of the Filipino American Movement." We can see the legacy with how student organizing has fueled community building and social change across different regions of the United States, like the Midwest Association of Filipino Americans (MAFA) consisting of 28 member schools/organizations (including OSU's PSA) and its annual conference, the Midwest Filipino American Summit. Young people are our future and they are the culture and history bearers for generations to come. Young FilAms are also pushing boundaries and assumptions about what it means to be P/Filipina/x/o American (like all the complexities just in those slashes associated with naming practices!).
How does your scholarship, with its emphasis on critical race theory and racial identities, intersect with Filipino American history, culture, and advocacy?
For me, the emphasis placed on history and reminder that we need to sometimes revise or reinterpret the history we've been taught (e.g., the Philippine-American war used to be taught as the Philippine "insurrection") is imperative. Considering the legacies of colonization and the ways whiteness (as packaged by Spanish and then American colonizers) was privileged in the Philippines and continue to influence Filipino American identities through what scholars like Kevin Nadal and E.J.R. David call "colonial mentality." Also, my research focuses on racial identification issues, and Filipino Americans often don't know where best to identify ourselves within U.S. racial classification schemas (i.e. the box checking on demographic forms). The Philippines is an archipelago in the Pacific Ocean, often referred colloquially as the "PI" (Philippine Islands). So in my research and anecdotally, I've come across Filipino American students who think they can and should check off the "Pacific Islander" box on demographic questions. Other research, like Anthony Ocampo's book The Latinos of Asia, explores how Filipino Americans navigate boundaries between Latino or Asian groupings. It can be very complicated but part of my advocacy has been to embrace the messiness when these categories and our identities don't always align and use that as a source of empowerment toward change.
How can members of the EHE and greater OSU communities be supportive or get involved?
This feature is a great way to be supportive (thank you!). You can also get involved in OSU student organizations like PSA, and/or support their annual cultural show, Barrio (to be held in-person on October 23), or take classes and support events by OSU's Asian American Studies Program. I'm also a founding member of the brand new FANHS Ohio chapter (along with fellow OSU faculty members like M. Joseph Ponce and Ann Marie Davis), and we are holding several events this month in recognition of FAHM (in addition to our monthly general membership zoom meetings). There's also PASCO, the Philippine American Society of Central Ohio. I would encourage you to support local Filipino-owned businesses, like restaurants Bonifacio, Boni at Budd, and Kuya Ian's Bistro.
Can you recommend some related goodies to read, watch, or listen to?
In addition to the resources and scholars hyperlinked above, here are some additional recommendations for Filipino American History Month:
America is in the Heart: A Personal History by Carlos Bulosan (first published in 1943; 2nd Edition with new introduction published in 2014)
Little Manila is in the Heart: The Making of the Filipina/o American Community in Stockton, California, by the late Dawn Bohulano Mabalon
Filipino Americans: Transformation and Identity, edited by Maria P.P. Root
The "Other" Students: Filipino Americans, Education, and Power, edited by Dina Maramba and Rick Bonus
Nothing on US: Pinays Rising documentary and music video by emcee and activist Ruby Ibarra
This Filipino American Life podcast (including their October 7th episode all on Filipino American History Month)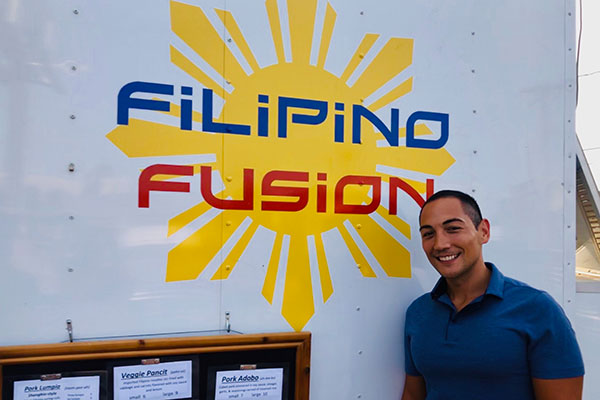 Interview done by Carlotta Penn, PhD
Senior Director of Partnerships and Engagement